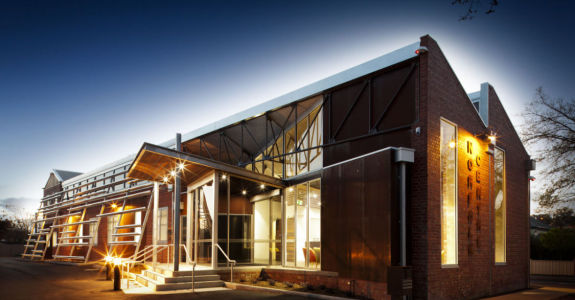 Moneypit Investments Pty Ltd Medical Centre
Winner Excellence in Use of Steel
Designer:
Planwise Design Pty Ltd
Builder:
Luke Drummond Builders
Phone:
(03) 5441 5888
Photographer:

Anthony Webster

Web:
www.planwisedesign.com.au
Location:
Bendigo, VIC
This project was a clear winner given its innovative use of steel both externally and internally. This design uses steel creatively to reflect and highlight the building's industrial history in its previous use as a brewery. The steel entry canopy and the sculptural façade beyond make a contemporary juxtaposition to the restored heritage building and the original expressed steel truss above, while creating interest to the main focus and address to the building.
Galvanised steel also continues as a strong element used for the upper residence screening device. This complements the heritage pressed red bricks and adds interest to this elevation.
This theme continues through to the interiors, where the use of steel conduits and pipes has been left to be exposed proud of the walls. This, once again, highlights the features of a bygone era, and of older plumbing practices where exposed steel pipe runs were normal practice and not the exception.
The innovative way that this project adopts the original restored steel components and then relating these to the new galvanised elements to the external layer, certainly make this project the winner in this category